Hi,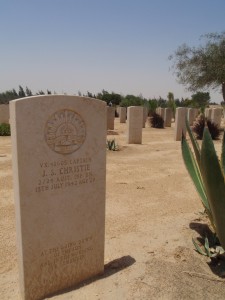 We were recently holidaying in Egypt and while there visited El Alemain, as this was where my grandfather served with the 2nd New Zealand Expeditionary Force during WWII.
While paying our respects in the Allied War Cemetery, I happened to pass by the grave of one VX48605 Captain J.S. Christie. As a past student of NSC the name rang a bell and I snapped a photo, unsure if it was the one and the same. On returning home and looking up the service record, I was surprised and pleased to find it was!
Please see attached photo, I'm happy to report that the cemetery was very well looked after, though so far from home.
Cheers, Cameron Patrick, Class of 1997